There has recently been some analysis conducted of violent crime over the 2015/16 period. The primary data source has tended to be FBI Uniform Crime Report (UCR) data as well as research and analysis from the Brennan Center for Justice. Some news agency surveys are also worthy of mention.
Violent crime over 2015 and 2016
As we start to enter 2017, it is a good time to revise ourselves of the most recently published violent crime data and projections for 2016. This will prepare us for when violent crime data for all of 2016 is released later in 2017.
Overall, crime is at historic lows, including violent crime and murders. Some estimates put the figures at about half their peak in the early 1990s. That's not to minimize the fact that some cities have, in fact, gone through crime spikes in recent years. Chicago is among them, even if Brennan's researchers consider it "an outlier" and believe "no other large city is expected to see a comparable increase in violence."

On paper, Chicago's 9.1 percent increase in overall crime and 16.2 jump in violent crime seem to pale in comparison to, say, San Antonio's experience: 23.3 percent increase in crime, 52.2 spike in violent crime, and 52.9 percent climb in murders.
The Brennan Center analysed crime data from the 30 largest cities in the US for 2015. It also collected 2016 mid-year data from police departments to project overall violent crime for the year.
Violent crime still near historic lows
Crime in 2016: A Preliminary Analysis | Brennan Center for Justice:
All told, 2015's murder rate was still near historic lows. The authors concluded that reports of a national crime wave were premature and unfounded, and that "the average person in a large urban area is safer walking on the street today than he or she would have been at almost any time in the past 30 years."
The violent crime rate for 2016 is projected to rise slightly, by 5.5 percent, with half the increase driven by Los Angeles (up 13.3 percent) and Chicago (up 16.2 percent). Even so, violent crime remains near the bottom of the nation's 30-year downward trend.
You can go and have a look at the raw FBI violent crime data for yourself at the following links (the FBI has not released any UCR violent crime data for 2016 yet).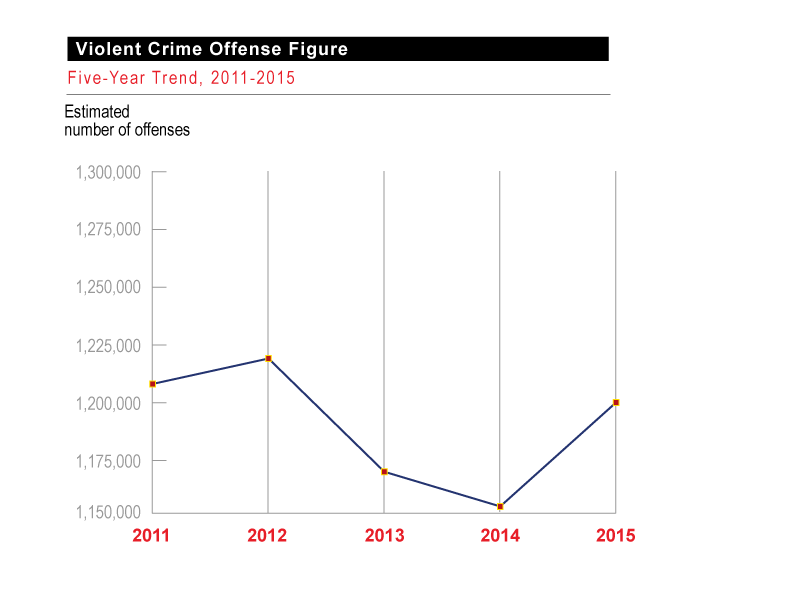 On Chicago's increase in violent crime
WSJ:
Some criminologists say Chicago's surge in violence is partly due to an increasingly fragmented gang structure, coupled with the demolition of public-housing complexes that concentrated the drug trade and shootings when the murder tally last eclipsed 700 in the 1990s.

"What we are seeing now is more 'mom and pop' type of activity," said Andrew Papachristos, a Yale University sociology professor who studies violence in Chicago. A trend of smaller, more volatile disputes "makes gang violence a little bit more unpredictable," he added.
Poverty, high levels of unemployment and gangs are the no-brainer drivers for much violent crime. Living in areas of high violent crime massively increases the risk of getting involved in some sort of violent crime incident.
Moving to an area of much lower violent crime, if possible, will often be a far more effective self defense activity than any martial arts training or self defense seminar can ever teach. Such a move will lower the risk for not just yourself but also your partner and children.
Boring but very effective.
Early look at violent crime over 2016
The Wall Street Journal has recently conducted its own surveys and has identified broad rises in homicide in many big US cities over 2016.
WSJ:
Sixteen of the 20 largest police departments reported a year-over-year rise in homicides as of mid-December, a Wall Street Journal survey found. Some notched minor increases, while Chicago saw one of the most dramatic jumps, with more than 720 murders—up 56% from 2015.
Source: WSJ
No need for concern - yet
Despite the numerous sensational, fabricated and incorrect claims over 2016 we can see that overall violent crime is not currently escalating out of control. We are really talking about some key outliers impacting the overall figures. Although the rises occurring are still of concern - especially for those living in the those cities.
The overall figures go up and down year to year. This is normal. It is only medium and long term upward trends that should be serious cause for concern. This is not currently the case.
Always remember, you can go to the FBI UCR data tool yourself and look at the figures for your State and local area. This will give you a better understanding of violent crime that is more relevant for you - here.
We will continue to watch for the FBI to release the figures for 2016. There will likely be a wait for these as there is typically a lag from the end of year to the release of year-end data.
Next
If you would like to improve your own appreciation of violent crime statistics, understand how different violent crime rates are trending, learn about the two main types of human combative behaviour and how weapons are used to commit violent crime you may want to look into our free online training course - Understanding Modern Violence.